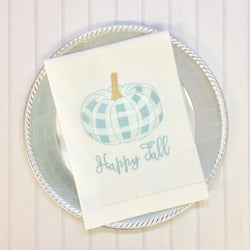 Happy Fall HemStitch Huck Towel
Pumpkins, pumpkins everywhere and they don't have to be orange! These towels are a beautiful addition to any kitchen...ours are even dressy enough for the bath as a fingertip or guest towel.  100% Egyptian cotton huck towels have a subtle diamond weave pattern. This towel measures 17" x 22" inches with hemstitched bottom and straight hemmed sides. Huck towels are very absorbent and lint free as well as easy care.
The sample is stitched in a beautiful 'spa' blue. 
This item can also be personalized, send me a message.