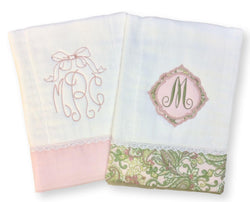 Pretty in Pink Personalzied Burp Cloth Set (2)
Burp cloths are a baby essential...so why not be practical and pretty?!?! Our personalized burp clothes are new & much improved!  We start with the highest quality, very generous size 100% cotton prefolded and diapers, measuring approx 13 x 19" and are a 2 ply x 5 ply x 2 ply thickness.
This burp set is trimmed with mini gingham, paisley print fabric and edged with a sweet little white cotton lace. One is embroidered with a vintage stitch bow and monogram, the other with a fabric patch and  initial.